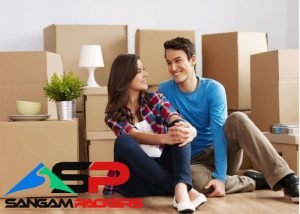 Welcome to our representative page of Sangam Packers and Movers in Allahabad . The city of combination of the major rivers of India like Ganga, Yamuna and Saraswati is known to be the second oldest city of the country India. Also known as "PRAYAGA", Allahabad is one of the religious destinations. Considering the roots of the city and adhering to the spiritual atmosphere in the air and minds of people, we have come to the aid of all the locals giving due reverence to the emotional and religious significance of the client's goods. The importance of the company lays in the fact that we offer clean and requirement-oriented services in order to avail highest customer satisfaction.
Sangam Packers and Movers in Allahabad, a famous Home, Office, Business, Industrial packers and movers service provider in Allahabad to all over India. Sangam packers and movers allahabad is fully Insured and certified moving company with updated kit that can handle any move.
We help from planning relocation, reaching of valuable belongings to the new destination. We are provided that packers and movers services in Allahabad, Varanasi, Gorakhpur, Lucknow and all over India. With Sangam Packers Movers Allahabad your next move begin the moment you call 7080389900 for a free estimate. As a valued customer, you can always call to assist you with any questions regarding your current move, or a future move.
Sangam Packers And Movers in Allahabad – A corporation which keep you worry Free moving. We as India's Nation top packers and movers in allahabad handle different relocation services, for example home shifting, business shift, domestic relocation etc. There are several organization providing the similar services but we provide you solutions of your all relocation requirements. We are dedicated to make your shift secure, easy and relaxed. Our packers and movers services includes…